Bite sized version of our mochi muffins (around a size of a bite size brownie)! Mochins are a hybrid between butter mochi and muffins, and are baked fresh every morning. All our mochi muffins are lightly sweetened to highlight the flavours and are crispy on the outside, with a chewy middle. If you're looking to try something new, or are just in the mood for a quirky muffin, this box is for you! Flavours change every month.

!!!
most of our items are gluten + nut free but all products are made in the same kitchen so please note if you have extreme allergies.
Mochi muffin Flavours: 

- Matcha Red Bean Mochi
- Vanilla Bean w/ Custard Filling 
- Raspberry Almond ** contains nuts**
- Hojicha Black Sesame Double Mochi
- Strawberry Cheesecake 
- Black Forest 
*main ingredients*
glutinous rice flour, sugar, coconut milk, baking powder, butter, eggs, vanilla extract, salt
Customer Reviews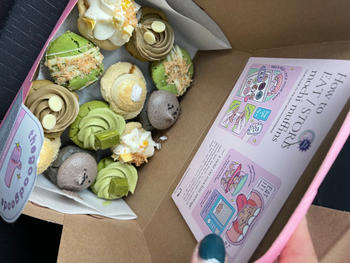 03/27/2022
Order NOW.
The best mochi product in Toronto. I am obsessed with mochi items, so when I coincidentally walked in to Pod Coffee Shop and saw the pop up stand I was thrilled. It did not disappoint. The best flavours, the toppings were delicious, the flavours were not too sweet or overpowering, and the consistency of the actual mochin was perfect. Can't wait for the store front to open up!
Bernadette P.

Canada
04/24/2022
favorite treats
I love these mochins!! i chose to have them on my cheat day!!
04/20/2022
Delicious Mochi Muffins
I saw the goodsgoods on TikTok one day and was fascinated by the idea of Mochi Muffins. I loved watching the background stories and seeing how everything was made. After seeing this, I had to try out the April Mochi Muffins flavours and they were delicious! Very soft, chewy, and all of the combine flavours were tasty! Definitely will tell my family and friends to try out the Mochi Muffins! How you guys market everything is amazing! Keep up the great work!! ❤️
Kat D.

Canada
03/07/2022
LOVE!!!
These flavours are so amazing!! You just cannot get this anywhere else, I swear I'm ordering this like once a week now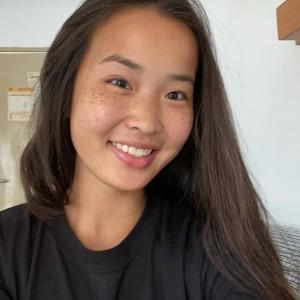 CT
Christine T.

Canada
03/05/2022
Love these!
The texture was great. So soft and chewy. And the cream on top was smooth and creamy - yum! The flavours were also great and strong. I'm excited to order again!
Anonymous

Canada