mini mochin party platter
Party platters of bite sized version of our regular mochi muffins (around a size of a macaroon) that are perfect for sharing or a small gathering to try all the flavours!

What are mochins?
Mochins are a hybrid between butter mochi and muffins, and are baked fresh every morning. All our mochi muffins are lightly sweetened to highlight the flavours and are crispy on the outside, with a chewy middle. If you're looking to try something new, or are just in the mood for a quirky muffin, this box is for you! Flavours change every month.

!!!
most of our items are gluten + nut free but all products are made in the same kitchen so please note if you have extreme allergies.

Includes All 6 Mochi muffin Flavours: 
- Tong Yuan (sesame mochi ball)
- Strawberry Mint
- Milk Chocolate Banana Bread 
- Chocolate Hazelnut* contains NUTS
- Jollypong Latte* not GF
- Blueberry Lychee Crumble* not GF 
*base ingredients*
glutinous rice flour, sugar, coconut milk, baking powder, butter, eggs, vanilla extract, salt

Customer Reviews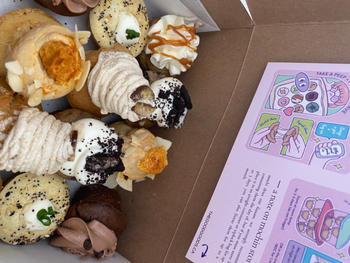 05/02/2022
Very irresistible
I've been wanting to try mochins for so long and I can say that I'm glad I did! The flavours are on point and just have the right amount of sweetness. Caramel macchiato was my fave! Everything bagel was a nice surprise and tastes exactly like an everything bagel. They're so chewy and just perfect. Looking forward to more flavours!
Anonymous

Canada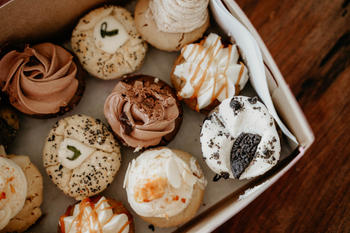 04/19/2022
Delicious!
Orders mochi muffins and tea-misu for my birthday party and it was a big hit! Thank you so much for being so easy to work with and delivering products on time. Can't wait for next month's flavours, they are all so delicious!
Anonymous

Canada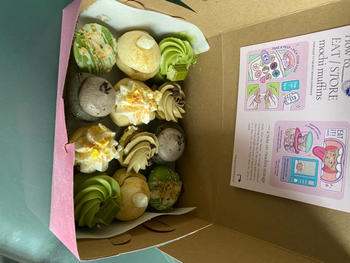 03/27/2022
Just amazing!
Absolutely great! Love the quick ordering time and process! The mochins are SOOOOO wonderfully and tasty. I am definitely going to be a number 1 customer!!!
Ann P.

Canada
05/04/2022
I'd order again 100%
I had a great experience ordering from The Good Goods. They were able to accommodate a few custom requests for my relatively larger order. The service was very friendly, pickup was easy, and the food was tasty.
03/16/2022
Great service and amazing muffins
I had a great first experience ordering from here. The team was very good with accommodating me. My family and I absolutely loved the muffins. Thanks to them.
Melissa Y.

Canada